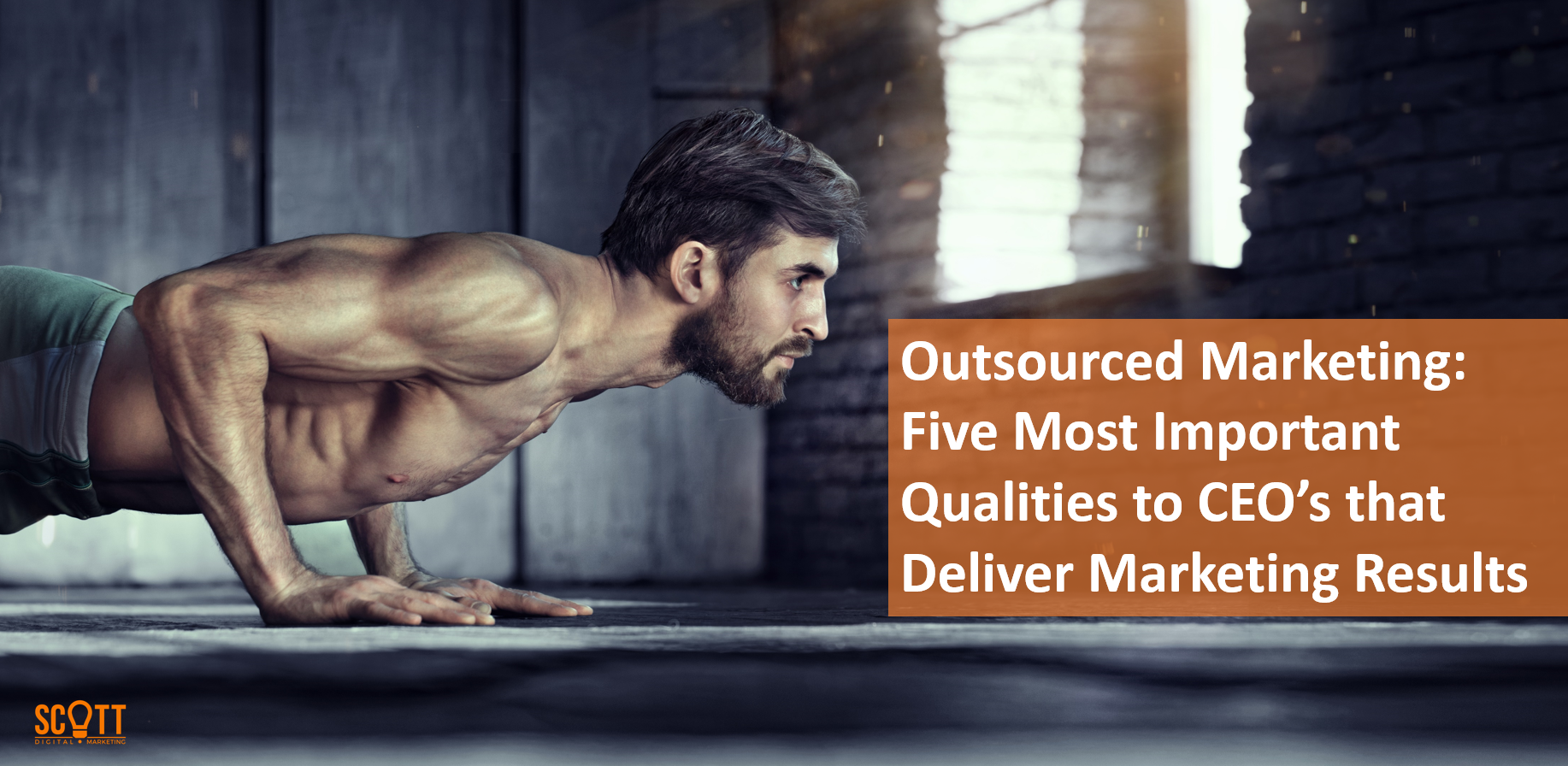 What are CEO's and decision makers looking for when hiring an outsourced marketing professional?
Smart CEO's want CMO's and outsourced marketing professionals who can deliver results.
Marketing isn't about ROI anymore, rather it's about delivering results.
Every CEO, managing partner, and decision maker defines results differently but in the end, CEO's buy stories and they want to feel good about the money they're spending with outsourced marketing professionals and E-Commerce consultants.
Before they do spend money, however, there are five qualities every marketing professional must have in order to be successful when working with a CEO and decision maker.
Technical ability
A great outsourced marketing leader must have a series of technical talents in order to get hired and be successful.
Demand Generation: Every outsourced marketing executive/professional must know and understand how to drive traffic through email marketing and SEM/SEO.
Conversions: Conversions are critical for success. Every outsourced marketing professional must absolutely love the process of developing strategies to improve conversions. In E-Commerce, this comes down to the shopping cart experience. In B2B lead generation, this comes down to improving form submissions for lead generation.
Partnerships and Influencer Marketing: Every outsourced marketing contractor must know and have experience with building industry partnerships that mutually promote content to their respective audiences.
Social Commerce: Marketing professionals must have experience with user generated content, contributor campaigns, social media campaigns like Facebook groups, LinkedIn groups, and other networks.
Technology Savvy: Every outsourced marketing professional must have a solid understanding of how to best use technology like webinar/video software, marketing automation, CRM, email marketing software, analytics software, mobile apps, operations and product delivery, API and integrations, project management software and working with remote team members using tools like Skype for Business and Slack.
Gone are the days where a marketing leader relies on someone else to "manage" their technical tools for them. They must be sharp, willing to learn new technologies, and must have a desire to keep up with technology trends. Technology isn't getting any easier or simpler in today's complex digital marketing world, so staying ahead of the curve is paramount.
Understanding the P&L
A great outsourced marketing professional needs to know how to create a budget, track this budget, and how to balance cash flow and return on investment.
A CEO has to understand their top sales and marketing objectives, and this oftentimes start with the P&L. The P&L is usually assessed in one of two ways: growth and profitability. This is a balance and the right focus depends on the industry and margins. In order to show results in your marketing, outsourced marketing professionals and CMO's must be able to work within a P&L and also work with whomever is in finance to review and communicate these financials, on a consistent basis. Knowing what numbers mean is important, but being able to communicate the value of these numbers is even more important. Consider creating some sort of weekly or monthly scorecard that shows progress of the top 5-6 financial and marketing measurable's.
Business performance isn't solely based on growth and shouldn't be. There's an increase in business owners looking at M&A for growth, for example, and great outsourced marketing professionals need to understand how good sales and marketing can align in this strategy.
Understanding the marketing technology stack
A great outsourced marketing professional needs to understand the entire marketing picture, including how to craft a marketing strategy, how to choose the right technologies, and how to get the best talent to leverage these technologies.
Speaking of talent and technology, there are typically four types of talent to consider when hiring an outsourced marketing leader.
On the far left are technologists or hackers, like Mark Zuckerberg.
On the far right are the pure marketers, like Don Draper. These are the types where technology doesn't matter.
Near the left are the marketing-oriented technologists, who are marketing professionals that leverage technology in customer relationships yet still see customers as a source of headaches.
Then there's the right where you'll find the technology-oriented marketers, which are the most appealing to CEO's, business owners, and recruiters. These are professionals who see technology as a means to an end: better customer experience, greater customer intimacy, while leveraging technology to help customers succeed.
Great marketing professionals are ones who are driven by a clearly communicated cause, a strong mission and the right technology. They are teachable, coachable and understand how the buyer and technology intersect.
Creating value through differentiation
Being a slave to the P&L will only get you so far and competing against larger competitors on price or convenience is not a winning strategy.
Great CEO's are looking for marketing leaders who know how to create and amplify unique experiences through clarity and differentiation.
Great outsourced marketing leaders ask direct questions, like:
Who is this company's ideal buyer and customer and who's it not?
If I shadowed your ideal buyer for 30 days, what would you see, morning, noon and night?
How does your ideal buyer feel about themselves because of their relationship with your company? Are they smarter, prettier, or more successful?
What would this ideal buyer demand?
What are the three unique's of our solution and are these three unique selling propositions (USP) enough to clearly differentiate us in our marketplace, when interacting with prospects and buyers?
Marketing leaders need to know how to create buying experiences that fit how an ideal buyer buys. The best outsourced marketing professionals reverse engineer the entire buying process and buyers journey in order to create marketing campaigns that will be irresistible to potential buyers.
Demonstrate strong leadership
This is the hardest quality to find in a good marketing leader.
Typically, most marketing leaders aren't very good business people. They just aren't. Many marketing professionals are creative types or idealists who don't know how to manage a budget or make good, fundamental business decisions. In a perfect world, you want your marketing leader to be a shrewd decision maker.
Your ideal marketing leader, in order to get you the best results, needs to not only understand the finances, but also has to be focused on the future. They have to have their pulse on innovative technologies and new marketing tactics like AI, Chatbots, and natural language processing (NLP).
Great marketing professionals demonstrate an understanding of operations as well as the ability to make bold decisions that impact the future. This begins with understanding market trends, having the right people in place, and making sure all your team members are in the right seats, to quote Rockefeller habits. And if you don't have the right people in the right seats, great marketing leaders aren't afraid to hire and fire accordingly. Strong leadership begins with setting clear expectations and holding team members accountable.
Whether you're a marketer who wants to get hired or a CEO or business owner who wants to work with a top-notch marketer, look for these traits: technical ability, understanding a P&L, understanding the right marketing technology stack, creating value through differentiation, and demonstrating strong leadership.