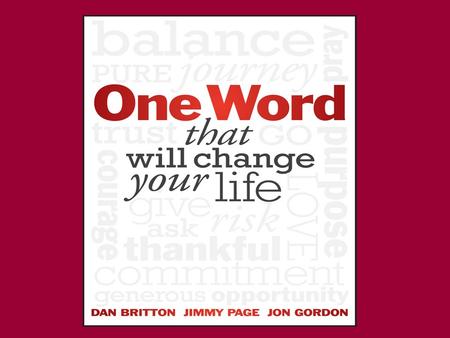 I love the movie City Slickers.
It's a comedy starring Billy Crystal as Mitch, a vacationing businessman, who takes on the adventure of driving cattle.
In the middle of the movie, Mitch meets a rough-around-the-edges cowhand named Curly, played by Jack Palance.
Curly tells Mitch that the secret to a great life is only one thing.
Curly even emphasizes his point by holding one finger and saying, "You need to stick to that one thing."
Mitch asks, "What is that one thing?"
Curly's reply is "That's what you gotta figure out!"
I thought One Word was a joke.
How can reading a book about a single word really have that much impact on my life?
I've read thousands of books in my lifetime and what I've found is there are very few originals. Meaning, most books about business, self-help, marketing, etc., are regurgitated from someone else's point of view.
Most content I read in books isn't anything profound or new.
But, once I got into One Word, I realized this was vastly different.
I'd describe One Word as this: a methodology and process for simplifying your life through the focusing on only One Word for an entire year.
This process and methodology creates clarity, passion, and life-change.
You see, resolutions fail, and goals can be easily forgotten, but One Word sticks.
By living a single word that embodies the essence of your life at this moment, you'll find refreshed purpose throughout an entire year.
How to choose your One Word.
Choosing your One Word is a three-step process.
Prepare your heart by looking in.
Discover your word by looking up.
Live your word by looking out.
Step 1: Prepare Your Heart By Looking In.
This first steps forces you to take time to unplug from the noise and distractions of daily life.
It asks you to quiet your mind, listen, and ask yourself these questions while journaling your thoughts:
What do I need? This isn't about what you want, rather what you truly need. What areas of your life need the most change and why is this change necessary?
What's in my way? This question asks what's preventing me from having what I need? Sometimes the barriers in your life might just be staring at you in the mirror.
What needs to go? Maybe you're being held hostage by past hurts, wounds, or mistakes. Perhaps this pain and anger needs to get resolved so you can heal and in order to move forward.
Step 2: Discover Your Word By Looking Up.
Not to get overtly religious, but there IS a spiritual aspect to choosing your One Word.
This part was the most enjoyable because it forced me to surrender control (ironically my 2019 One Word was surrender) and seek understanding at the highest level.
Because this is my fourth year doing this, I typically start in September/October and take time to listen. This process of listening can take days, weeks, or months.
It's a process of elimination where I write down several words that come to mind, pray about them, seek wisdom from my mentors and peers, and ultimately trust my One Word will come.
It always does.
Step 3: Live Your Word by Looking Out.
Once you've moved through the first two steps, you're ready to live your word out loud.
You'll want to integrate your One Word into your daily life by doing things like posting your word in prominent places, sharing it with those you trust, communicating to your inner circle, or by making your One Word a screensaver.
It's critical to remember and focus on your word throughout the year because it's easy to forget your word with life's stresses and challenges constantly distracting you.
My One Word started four years ago with the word Intentional.
Then it was Breakthrough.
Then, last year, it was Surrender.
This year my One Word is Change.
A very good friend of mine pointed out the correlation between these four words. Take a look:
Intentional -> Breakthrough -> Surrender -> Change.
I don't believe there are coincidences in life, and everything happens for a reason. That said, the correlation is astonishing as to what my One Word's are doing to change my life.
The One Word process isn't about choosing a word to guide your life, rather it's about uncovering a word that will drive growth and change by examining your past successes, struggles, as well as your future hopes, dreams and concerns.
Once you have that word you'll find you can narrow your focus and simplify just about everything in your life and work.
Some other takeaways were:
Busyness is a modern-day epidemic robbing us of our life.
Busyness puts you into survival mode, leaving no time for mission and meaning.
Busyness makes me callous and can make me hard to caring about the things I care about.
Let me challenge you, intrepid entrepreneur and reader, how are you simplifying your life and embracing focus in order to grow?